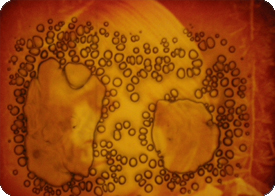 are will still going to the movies?, 2013
are we still going to the movies?
16mm performance, 12 mins, 2013
A companion piece to This Charming Couple, in another more contemporary (though still relic) film about relationship management. A '70s educational film is slowed and strobed, exploding the confrontational nature of social customs. Speed interference and introduced sound transform a somber date into a sinister affair. Occasionally accompanied by live music and recently remounted as part of the Sawdust Collector series in Vancouver.
.